Anycubic Kobra Neo High Printing Speed 250x220x220mm
Printing Material: PLA/ABS/PETG/TPU
Printing Dimensions: 250x220x220mm(HWD)
Nozzle Size: ø 0.4mm (replaceable)
Control Panel: 2.4" LCD screen
Machine Weight: 7.4kg
Machine Dimensions: 490x445x443mm(HWD)
Nozzle Temperature: ≤500F/260℃
Hotbed Temperature: ≤230F/110℃
Average Print Speed: ≤100mm/s(Max.) ≤60mm/s(Typ.)
Zaxis: Single threaded rod
Leveling: Anycubic LeviQ 25-point precise leveling
Filament run-out detection: Optional
Extruder Type: Direct extruder
Printing Platform :PEI-coated metal sheet 220x220mm
Memory Card Slot: SD Card
Politique de livraison
: Vous pouvez voir les tarifs d'expédition et estimations de livraison cliquant ici
Politique de retours
: Retour sous 7 jours avec conditions, cliquez pour plus de détails
Anycubic Kobra Neo
Equipped with the self-innovated Anycubic LeviQ automatic leveling system. 25-point intelligent and precise calibration and hardware algorithm to automatically compensate for the unevenness of hotbed, leveling has never been so easy.
Integrated Extruder for Precise Filament Extrusion
The extruder is integrated within the hot end, making it easier to replace the filament with a lower failure rate. Moreover, an integrated extruder can deliver the filament more efficiently and precisely.
Adhesive PEI Spring Steel Platform for Easy Removal
The printing platform is made of magnetic spring steel, which is wear-resistant, less breakable, and bendable. The finished miniatures can be removed quickly by bending the build platform slightly. The magnetic design makes it easy to install and remove.
10 Minutes Easy Set Up
The 5-modular design makes it possible to set up the printer within 10 minutes, which makes Kobra Neo a good choice for a beginner-friendly FDM 3D printer.
High Printing Speed
Anycubic Kobra Neo prints at a typical speed of 60mm/s and reaches 100mm/s at its highest, which is possible to speed up 3D printing times without losing quality.
Larger Creation Dimension
Compared to the previous generation Anycubic Mega S, The Anycubic Kobra Neo has a 34.4% increase in printing volume to 12.1 liters. The printing size is 220*220*250 mm, which is equivalent to the size of a standard size 5 football.
Worry-free Smart Sensors
The standard power outage resuming sensor and the optional filament run-out sensor reduce filament waste and save time by avoiding the printing failure caused by the power outage and lack of filament.
Knobs for Easy Adjustment
The knobs of the XY axis belt-tensioner make it easy to adjust the string tightness. No additional tools are required, just with your hands.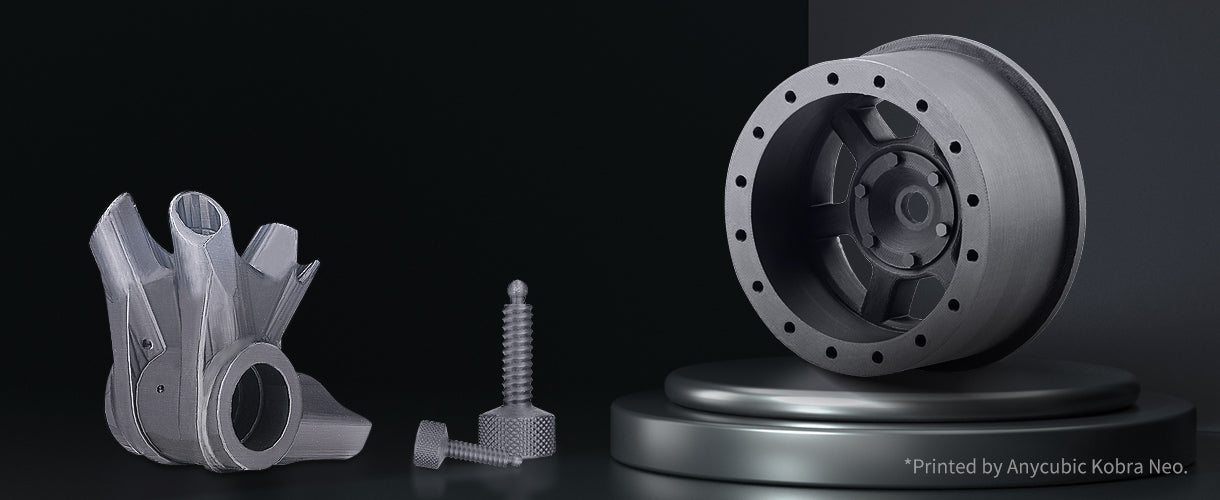 Machine Weight
7.4kg
Machine Dimensions
490x445x443mm(HWD)
Printing Dimensions
250x220x220mm(HWD)
Nozzle Temperature
≤500F/260℃
Nozzle Size
ø 0.4mm (replaceable)
Hotbed Temperature
≤230F/110℃
Average Print Speed
≤100mm/s(Max.)
≤60mm/s(Typ.)
Zaxis
Single threaded rod
Control Panel
2.4" LCD screen
Leveling
Anycubic LeviQ
25-point precise leveling
Printing Material
PLA/ABS/PETG/TPU
Filament run-out detection
Optional
Extruder Type
Direct extruder
Printing Platform
PEI-coated metal sheet
220x220mm
Memory Card Slot
SD Card
Anycubic Kobra Neo


In The Box